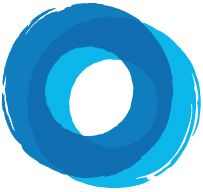 The rough surface of the circle symbolizes a creative spirit, creativity, change, innovation, and unlimited potential.
The two circles symbolize the customer & the company and the employee and employer, respectively. They signify the creation of a new future through harmony and cooperation.

The aqua blue circle on the back symbolizes the past of HHIC with the implication of inheriting the entrepreneurial and pioneer spirit (i.e., 'business is an art,' 'a company is its people') and making a contribution to the national economy.

The dark blue represents the present of HHIC, symbolizing a progressive HHIC through continuous innovation and evolution.

The blue represents the future, symbolizing HHIC's dynamic vision that creates the future through constant challenges.