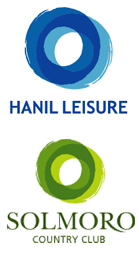 Enjoy a round of golf in a beautiful setting, a good way to restore your energy and make your life even more worth living
Each hole presents a different fine view, and the amazing course will attract a large number of golf aficionados. By always listening to our customer's voice, we will do our best to provide the quality service that you can get only at the finest country club.



The Hanil Country Club, which has been well-known as the representation country club of Korea since its establishment in 1991, was reborn as Solmoro Country Club on March 21, 2006 after five full years of renovation of its 36 holes and a remodeling of its clubhouse.

'Solmoro' is the ancient name of the Yeoju and Icheon area. It's a pure Korean word that combines sol, 'pine tree,' and moro, a 'group' or 'gathering,' which taken together means 'a place of many pine trees.' Solmoro wishes to serve its customers with a sincerity that is as unchanging as the pines and offers the best natural environment that surrounds it. Its symbol of two circles signifies it as a high-quality golf club with a beautiful harmony between nature and people, the Solmoro CC and the local communities, and Solmoro and its members.

2006.03.21

Firm name changed to Solmoro CC
1992.09.01

Full renovation of the 2nd stage 36

1992.02.24

Approved for the 2nd stage invitation of members

1992.01.31

Registered as Facilities for Athletics (membership base 36 holes)

1991.07.17

Partial renovation of the 1st 18 holes

1990.11.24

Approved for the 1st stage invitation of members

1990.10.11

Hanil Leisure Seoul Office opened

1990.06.30

The 1st stage construction of 18 holes completed
1989.05.11

Joined the Korean Golf Course Association

1988.12.24

Hanil Leisure Co., Ltd. incorporated and Mr. Nam-Ho Cho inaugurated as president

1988.07.29

Approved for Golf Course Development Plan